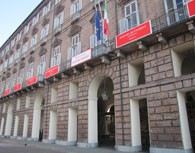 Teatro Regio
Torino, Piazza Castello 215
Thanks to his important opera season, the Teatro Regio is a datum point for Italian theatre and a showcase open to European and international panorama.
The theatre born is dated at the beginning of XVIII century. In those times, Vittorio Amedeo II thought to a urban restyling and it was chose the architect Filippo Juvarra for projecting a new big theatre. After Juvarra's death, in 1730 Carlo Emanuele II was crowned king and the project was assigned to Benedetto Alfieri. After only two years, the Teatro Regio was opened with the Francesco Feo's opera Arsace.
At the end of XVIII century, the theatre closed for few years, and opened again with different names according to historical events: in 1798 becomes Teatro Nazionale, in 1801 Grand Théâtre des Arts e nel 1804 Théâtre Impérial , finally, in 1798, with Restauration, theatre got back to Savoias'.
In 1870, the Teatro Regio became propriety of the city of Torino, the Orchestra Civica and Concerti Popolari were born and Carlo Pedrotti introduced Wagner and Massenet's music.
From 1895 to 1898, the Regio was the Arturo Toscanini's stage, Giacomo Puccini commenced here with Manon Lescaut (1893) and La bohéme (1896) and Richard Strauss , directed here for the first time, the Salomè Italian premiere.
In the night between 8 and 9 February, the Theatre was destroyed by a blaze. Carlo Mollino and Marcello Zavelani Rossi looked after the reconstruction completed in 1973. April 10th Vespri siciliani by Giuseppe Verdi opened the new endured seasons.