meals and water
meals
On arrival, tickets for lunches and dinners will be handed only to those who have already purchased meals through their online registration form. The tickets show the day and the type of meal (lunch or dinner) and they must be handed to the staff in the catering area.
Those who follow a special diet (vegetarian, celiac, etc.) and had reported it on the online form, should point it out to the staff who will indicate where to pick up the meal.
Catering area: the festival restaurant is set up at the Giardini Reali (Viale Primo Maggio), a few steps from Piazza Castello.
Lunch hours: 13.00 (last service at 14.15)
Dinner hours: 18.30 (last service at 19.45)
Special days: 27 July - 18:30 (last service at 22.00) / 28 July and 30 July - 19:00 (last service at 20.45)
water
In Torino the water from fountains and tap is drinkable, if not, it's always indicated. Throughout the city, you will find the typical green fountains shaped like the head of a bull, the symbol of the city, called torèt. In the info point you can find the map of torèts. There will be some water distribution points in the main festival venues (Piazza San Carlo, Giardini Reali, Piazza Castello), thanks
to SMAT, the water company in Torino. Fill your festival flask!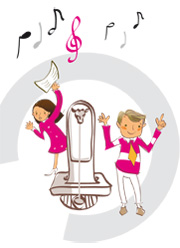 Smoking
In Italy, smoking in bars, restaurants, clubs and in all public places is forbidden. Some places may have a smoking room. You can smoke outside.