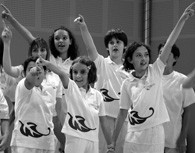 Atelier F: all the details!
Atelier with songs, dancing, musical games specifically thought for children: this is what the musical kindergarten offers. For one day or the entire week, in the morning and also in the afternoon or evening, if needed. Find out now the interesting proposal that the festival can offer you with favorable terms.
If you are between 6 and 10, apply to the laboratory for primary school. The programme is various, amusing and stimulating, in the morning and in the afternoon. And in the end…there will be a big concert on August 3rd where you will be the star!
Have you ever sung in a choir? No? Would you like to experience this even if you think you don't have special musical skills? The atelier Choir, love at first sight! is what you need! You can participate one or more days, even for the entire week and you will be followed by international teachers that will introduce you to this world you are not familiar with.