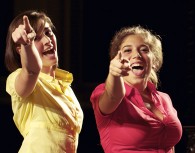 I'm ready TO apply... in a few days!
The application form of the Festival Europa Cantat XVIII Torino 2012 will be available on the website in a few days! You can register as a choir, as a group or as individual without accompaying people. Choose your favourite three ateliers or the special programmes you would like to attend before 30th November 2011. You will be guaranteed that you will be accepted in one of the ateliers of your choice at the festival Europa Cantat in Torino!
The participation fee includes the morning activities (ateliers led by internationally renowned conductors, discovery ateliers which will surprise you every single day, or special programmes for conductors and composers), special free admission to festival concerts, the songbook (with all the scores of the evening open singing), the festival guide with the complete programme and the city events!
When applying, you can decide whether or not to use the proposals for accommodation and meals offered by the festival!
In two words, be ready… in a few days you can apply!