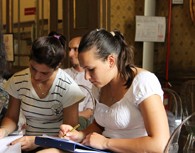 Looking for young managers!
Adhesions for YEMP are officially open! Yemp is the programme for young managers to learn how to organize events which offers a rich and stimulating formative path with seminars and practical experience. The registration deadline is 31st January 2012.
Limited availability: have a look at the programme here and register now!
For further information: yemp@ectorino2012.it
© 2011 europa cantat XVIII torino 2012 - cf 97736200011 - all rights reserved - tel. +39 0434 874360 -
info@ectorino2012.it