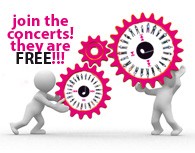 The festival offers all the concerts!
All the concerts are free!
Some of them can be booked in advance, from the 12th to the 22nd of July, following the instructions that you can find on our website, in the "programme" page.
Don't miss the opportunity to join the festival: both participants and city dwellers can book their seat at their favourite concerts. All information in the "programme" page, section "tickets", from 12th July!
Are you ready to listen to the festival music?!?
© 2011 europa cantat XVIII torino 2012 - cf 97736200011 - all rights reserved - tel. +39 0434 874360 -
info@ectorino2012.it