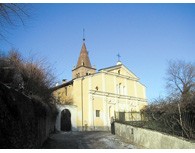 Avigliana (TO) - Chiesa di Santa Maria Maggiore
vicolo Santa Maria
Avigliana, an important city of Val di Susa, was born on a morainic amphitheatre. There are several signs of human settlements since the Neolithic era. The Celtic domination was the first to create an urban plan. As you can see from the ruins, the castle has paid, above all and beside the population, the consequences of the numerous wars, especially by the French.
The city is embellished by two small lakes, on which stands the Santuario della Madonna dei Laghi and the Certosa di San Francesco a Monte. The town centre, with the typical Renaissance city plan, offers plenty of houses of historical and artistic interest, along with the churches of Santa Maria Maggiore and San Pietro.
An important plant for the production of dynamite was built here, from the will of Alfred Bernhard Nobel.
events hosted