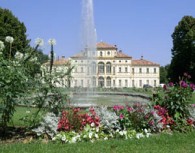 Parco della Tesoriera, Ex-Scuderie
C.so Francia 192
The park is about 75 thousand square meters. Inside, at the centre, stands the eighteenth century Villa, home of the music library Biblioteca Musicale "A. Della Corte ", surrounded by a large French style green lawn and a lighted fountain.
On the left side there is a building formerly devoted to the stables of the Villa, that , after several renovations, is the current home of the Italian Alpine Club Sec. UGET.
On the right side, in a Liberty style building, there are the offices of the International Association of Torino.
Villa Tesoriera is a significant example of a suburban baroque style villa. It was inaugurated in 1715 by the architect Jacopo Maggi, who was inspired by Guarini. The owner, Ayme Ferrero di Borgaro, was the general treasurer of the Duke of Savoy. The name of the Villa derives in fact from Ayme Ferrero's occupation. The Villa's splendour was short because of debts incurred for its construction and already back in 1723 it was placed at auction. A slow decline followed and it was interrupted only in half '800 by the Marquis Ferdinando of Breme and Sartirana, who enriched and populated the park with deers, aviaries, greenhouses, statues and vases made of manufactured stone. Originally the Villa was known as Villa Sartirana.
In 1962 the administration of the Duke of Aosta sold the Villa to the Istituto Sociale dei Gesuiti. In 1976, the Citizens'protests led the City of Torino to expropriate the Park and to purchase the Villa.
events hosted