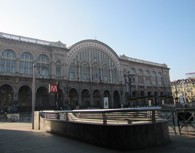 Stazione di Porta Nuova
Torino, Corso Vittorio Emanuele II
It is the third biggest station in Italy, with about one hundred ninety-two thousands daily transits and seventy millions visitors a year. It is located in corso Vittorio Emanuele II, between via Paolo Sacchi e via Nizza and it is the point of higher concentration of the public transport lines besides having a strategic position within the urban net. Everyday it receives about three hundred and fifty trains.
Torino Porta Nuova dates back to 1861, year in which works by engineer Alessandro Mazzucchetti started. The project combined the functional rigour with the representative and monumental characteristics typical of the buildings overlooking piazza Carlo Felice.
In occasion of the Universal Exhibition in 1911 some important enlargement works were carried out in order to make the station able to receive the large number of visitors.
In 1940 some relevant modifications were introduced to achieve a better arrangement of the compartment and postal offices and a big building was built in via Nizza. A new covering in reinforced concrete was laid down in the hall and on the front side a second internal glass façade was made.
During the following interventions two galleries that flank the wings of the building were made and in 1951 the head gallery was built. This is thirty meters wide and one hundred and fifty meters long.
Today, after the transformations occurred during the Fifties, it is possible to access the hall of the station from the five entrances of the original façade and from here one can walk the station along two parallel and opposite axis up to the front tracks; other transversal passages lead to via Nizza and via Sacchi.
(source: www.grandistazioni.it)
events hosted