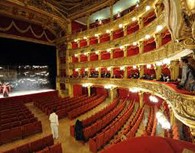 Teatro Carignano
Torino, Piazza Carignano 6
Teatro Carignano born as family theatre between 1600 and 1700, attended by Luigi Amedeo, Emanuele Filiberto's son. At first was used for minor operas in family context.
It was owned by Società dei Cavalieri in 1727, in this times it gained more luster with prose, singing shows and ballet. In 1752 Benedetto Alfieri projected the new theatre plan, opened in Easter one year later with the Carlo Goldoni's piece Calamita dei cuori, with music composed by Baldassarre Galluppi.
In 1786 the theatre burnt in fire and G.B. Feroggio drew the new project with four stages, the paintings came from Bernardino Galliari's hand, ceiling and stalls frescos were made by Francesco Gonin with Trionfo di Bacco theme.
Carignano is one of the most ancient Torino's theatre, and is reminded the long Carlo Goldoni's permanence in town. In 1751 Goldoni gave and homage to Torino's public with the comedy Molière.
It was the first Vittorio Alfieri theatre, in 1884 here are registered one of the big success of the actress Eleonora Duse with Cavalleria Rusticana by Giovanni Verga. Arturo Toscanini had here his debut in 1886, two years later Friedrich Nietzsche here assisted to Carmen. During the Nineties the theatre hosted historical debuts as Il piacere dell'onestà by Luigi Pirandello. Jean Cocteau, Albert Camus and lately the Nobel prize Harold Pinter came here to follow the theatrical seasons. From 1977 Teatro Carignano is managed by Teatro Stabile di Torino.
events hosted