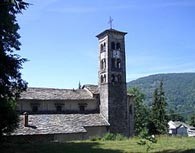 Vico Canavese (TO) - Chiesa di San Giovanni Battista
Chiesa di San Giovanni Battista
Vico Canavese, located among fields and morainic hills, it was an agricultural settlement of the Roman Centuriation. The city, after having overcome the vicissitudes of History, that were tied to the uncertain structure of the European states, it was attacked furiously by the Nazi invasion. The antique municipal archive was destroyed, and, along with it, also the recorded history of the city disappeared.
Through the narrow streets of the centre, you can pass under graceful vaults and drink in the numerous stone fountains.
San Giovanni Battista is a church of great value. Surely it dates earlier than the houses of the town, in fact its Romanesque architecture is an unusual rarity compared to the churches of the Upper Valley.
events hosted