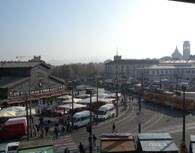 Porta palazzo
Torino, Piazza della Repubblica
"I've found it at Porta Palazzo!", it's very common to hear people from Torino saying this sentence after a market tour. Porta Palazzo is related to Piazza della Repubblica and the surrounding area, but most of all is referred to the big open-air market and his lively neighborhood. It's the biggest merchant area in Europe.
Between merchant stands, next to Piazza della Repubblica, the Duomo and Porta Palatina, you can satisfy all your desirers: shoes, clothes, households, food products from all Italian regions and specialties from all over the world. One thousand stands attracts, on Saturday, hundred thousand people. A melting pot faces, dialects and idioms taking with them histories, traditions and cultures.
The old clock shelter, Porta Palazzo's symbol, was realized in 1916 and it represents the metallic style used at those times. In it, there are a lot of numerated counters, branched in broad lanes.
You should know that in piazza della Repubblica, on Saturday morning, there's the Balon, the second hand market which becomes the Gran Balon every the second Sunday. It's really a picturesque place, here almost 200 exhibitors.